Being a freelancer is not an easy task. Here you are a one-man show and hence sometimes you have a feeling that you are playing badminton at both ends as you have to handle every task by your own self.
From proposals to end results, drafts to deadlines, budget to time management, from organising to reaching goals, everything is so much to handle, track and manage.
Sometimes the tasks become so tedious, that a freelancer tends to miss a deadline or quote less on a project or mismanage the time or erroneously sends Mr. A's job to Mr. B. And most of all a freelancer is always confused with the number of tasks he has to track, handle and complete. And to help freelancers about this dilemma many successful freelancers depends on one of the project management tools so that everything is sorted at their end.
Even if being a freelancer you consider yourself efficiently organized, still at some point of time you could fail and hence to keep the professional practice on going a good freelancer has a project management system to help them document their work, to track their work, to never miss a deadline and most importantly to see where their time is actually been optimized.
Practising freelancing is basically constantly shuffling in your various projects that are in different stages of completion and you need to track every project in such a manner that you don't accidentally miss any task from any of your projects and complete it within the deadline as your reputation here depends on meeting your deadlines.
To help you with all these things there are some amazing online project management tools specifically designed for a freelancer's needs to carefully track the progress of every project on their list and complete every task relating to these projects within deadline.
With many options of tools available for you, we have briefed the top 5 project management tool that you could choose from to simplify and organise all your freelancing tasks:
Best Project Management Tools for Freelancers
Servly is an all in one app built specially for freelancers and service sellers.

Usually, companies use a bunch of apps to get things done. There will be one app for payment processing, one app for collecting order info from clients, and then some apps for communications.

Servly sorts all of these problems by putting everything under one platform. Billing, client-onboarding, and project management, Servly has a platform to handle everything in one place.

Servly lets you create an awesome experience for your clients. It has easy to configure order forms to pick up data from client, integrated payment gateways, and messaging as well. Above all, you can offer your clients a dashboard to log in to and check progress with your own branding.

Servly is the go to service every freelancer or service sellers needs.
Trello lets you work more collaboratively and get more done. As Trello's boards, lists, and cards enable you to organize and prioritize your projects in a fun, flexible, and rewarding way.
Trello is a Productivity Platform that helps you to integrate the apps you and your team already uses directly into your workflow. The Power-Ups feature turns Trello boards into living applications to meet yours and your team's unique business needs. Further, the most advantageous part of using Trello is that no matter where you are it stays in sync across all of your devices so that you can collaborate with your team members anywhere and at any time.
In all, Trello is a good choice for you to handle a lot of recurring projects for different clients. The basic organizational tool has the "board", which is further separated into lists and each list is composed of one or more "cards" that represents a separate task. Additionally, if you are doing the same tasks frequently or have a core group of clients that you work with quite often, Trello can be easily set up to track any number of tasks from conception to invoicing.
Pricing:
Free Plan that allows 1 Power-Up per Board, 10 MB per File Attachment and 50 Command run.
Business Class Plan for $ 9.99 per user per month that allows Unlimited Power-Ups, 250 MB per File Attachment and 1,000 Command runs.
Enterprise Plan for $ 20.83 per user per month for 100 users that allows Unlimited Power-Ups, 250 MB per File Attachment and Unlimited Command runs.
Make more time for the work that matters most. Asana is work management platform teams used to stay focused on the goals, projects, and daily tasks that grow business.
If you already know, Asana is one of the most popular project management tools out there as it has been into the business since quite a long time and has enough experience when it comes to growing along with suffering the pain to become successful. It features a simple user experience that needs no training to use competently.
And the team can easily schedule, assign and comment on any number of projects and tasks without a lot of complicated confusion. Further, it features highlighting tasks and items according to your needs and preferences so that when you want to access tasks quickly you can do that with ease. It as sends reminder emails to remind you time to time about your tasks deadlines.
A bit similar to Trello, Asana also allows you to create a project, which can be broken down into sub-tasks with individual deadlines to easily monitor exactly what you have done and what still needs to be taken care of. It also allows you to upload attachments and share your projects with other people so that you can loop in your clients or collaborators depending on the situation whenever required.
Pricing:
Basic Plan which is free.
Premium Plan for $ 11.99 per user per month.
Business Plan for $ 23.99 per user per month.
Enterprise Plan for a price as per your customisation.
Organized Work, Better Teams. Redbooth helps teams manage tasks and communication so projects gets completed faster and easier.
We recommend Red Booth because it had a focused dashboard which helps you to manage your tasks, track updates and collaborate it easily and stays focused as a team because between emails and meetings, it can be easy to forget about important work and deadlines.
It helps organise your most important projects, and add and sort by assignees, due dates and tags for next-level task management. It can easily collaborate on tasks and threaded conversations. It also features arranging tasks in the board, list and timeline view to fit your planning needs so that you can track productivity with the dashboard and reports.
Red Booth helps teams to manage many tasks simultaneously with its flexible software and also stay on track with existing projects and start new ones instantly whenever required using the pre-built templates. The project management is mobile friendly as it allows you to stay connected with your team with Red Booth's iOS and Android application.
Pricing:
Free Plan for 14 days trial session.
Pro Plan for $ 9 per user per month that allows Unlimited workspaces, Time Tracking and HD Video Meetings
Business Plan for $ 15 per user per month that allows Resource Management, Advanced Subtasks and Redbooth Predict.
Enterprise Plan for a price as per your customisation on Multi-Org Settings, Success Manager and Volume Discounts.
Everything you need in one package. Connect to reach your colleagues wherever they are through Google Gmail, Calendar, Currents, Hangouts Chat, Hangouts Meet and Hangouts Meet hardware. Create everything you need to bring your project to life using Google Docs, Sheets, Forms, Slides, Sites, App Maker, Keep, Jamboard and Access.
Store files and find what you need instantly using Drive and Google Cloud Search. PppControl and manage users, devices and data securely and easily using Google Admin, Vault, Mobile and Workinsights.
Google apps help you to send professional email from your business web address and create group mailing lists. It allows all the storage you need with 24/7 live support so that you can contact Google support to get help from a live person whenever you need it.
They have all the advanced admin controls to add and remove users, set up groups and add security options like 2-step verification and single-sign-on (SSO), all from one centralized admin console. Further, you can also manage the Mobile devices to keep your company data secure with device management that allows you to easily locate devices, require passwords and erase data if needed.
It has unique data migration tools and services to move your organization's important data to G Suite from your current storage solutions.
Pricing:
Free Plan for 14 days trial edition.
Basic Plan for $ 6 per user per month with a professional office suite and 30 GB storage.
Business Plan for $ 12 per user per month with an enhanced office suite and unlimited storage and archiving.
Enterprise Plan for $ 25 per user per month with premium office suite and advanced controls and capabilities.
Leading Work Management Solution to Streamline Workflow. Cloud-based collaboration and project management software that scales across teams in any business.
Wrike Helps Project Managers Work Smarter, Set priorities, align goals, and manage resources across your organization with Wrike's project management tools and work collaboration platform.
Wriks helps you to organize everything you need to complete your project in one place. Its one-stop project management to that can help you to keep your priorities straight and your goals in sight. Wrike offers a top-notch ecosystem of integration apps so you can seamlessly connect with the apps you use every day and with it's a well-documented and easy-to-use APIs you get the flexibility to build your own integration to maximize your productivity and efficiency.
You can also customize the dashboards so you only see what you want to see. It gives you options to view all real-time reports and status for all of your team's projects. The planning for a project is simplified as Wriks helps to easily turn strategy into an actionable plan to achieve success.
It also enables you to collaborate and communicate with stakeholders in a centralised manner and maintain the full context along with streamline the workflow.
Pricing:
Free Plan for 5 users with a simple, shared task list for small teams. Professional Plan for $ 9.80 per user per month for up to 15 users that allows you to fully project planning and collaboration.
Business Plan for $ 24.80 per user per month for up to 200 users that allows you robust work management with the customization and executive reporting.
Wrike for Marketers Plan for a price as per your tailor-made solution for marketing & creative teams for up to unlimited users.
Enterprise Plan for a price as per your choice of comprehensive solution with advanced security & controls for up to unlimited users.
More Project Management Tools You Might Find Interesting
ProProfs Project (formerly known as Project Bubble)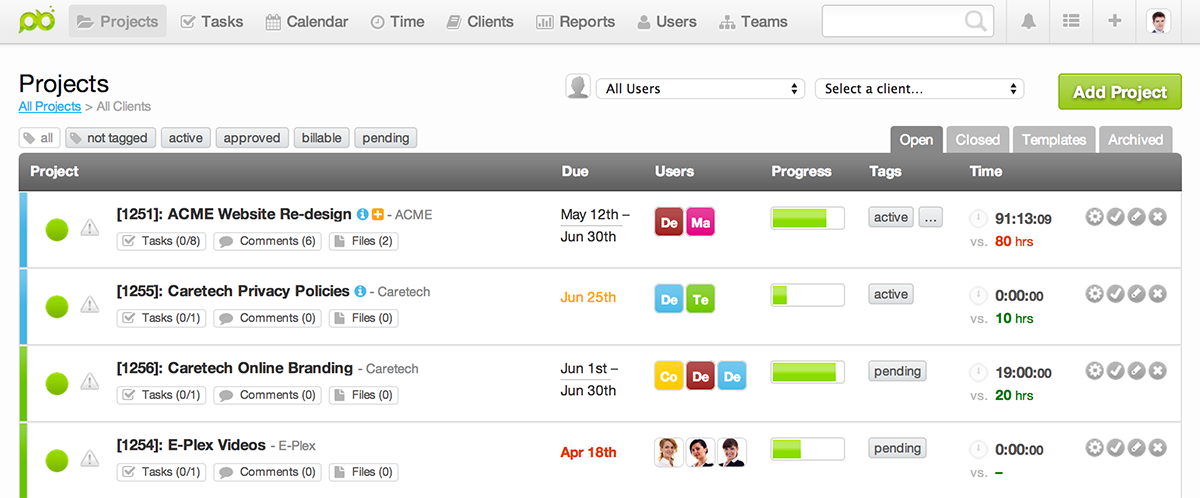 Pricing:
Forever Free Plan with 3 Projects, 10 Users, Unlimited Guests and their branding.
Soloprneur Plan for $ 19 per user per month with 10 Projects, Unlimited Users, Unlimited Teams, Unlimited Guests and their branding.
Team Plan for $ 49 per month with 50 Projects, Reporting & Charts, Task Dependencies, Dropbox, Box and CSV Data Export.
Unlimited Plan for $ 199 per month with Unlimited Projects, All Features, Custom Branding, Dedicated Support and Live Training.
Pricing:
Free Plan.
Solo Plan for $ 19 per user per month with unlimited projects.
Team Plan for $ 20 per month with unlimited projects and unlimited users.
Pricing:
Free Plan for up to 5 pipes, up to 10 users, 1 automation rule, up to 100 cards per month, Pipe Templates, Email Templates,
Public Forms and Mobile App.
Professional Plan for $ 12 per user per month with business-boosting features galore, for up to 5 automation rules, Reports and data filters, Unlimited Pipe, Connections and Pipe SLAs.
Business Plan for $ 22 per user per month to scale your operations with high security and automation with up to 15 automation rules, Admin controls and user roles, Organization level reporting, Field conditionals, API access and Private Pipes.
Enterprise Plan for a price as per your customisation with 50 users, Two-Factor Authentication, Customer success manager,
Custom Email Domain, Single Sign-On, Google Apps authentication, Scaled database records and storage, Professional services,
Data migration and Unlimited API.
Pricing:
Free Plan for five employees.
Basic Plan for $ 9 per user per month with a simple start for everyone.
Plus Plan for $ 14 per user per month to save time with automated workflows.
Premium Plan for $ 24 per user per month with a full suite of advanced features.
Conclusion: Choose the project management tool which is under your budget and satisfies all your needs. Have any tool that you use to boost productivity, let us know in the comments below.